By Stefaan Ghijs
One of the things that makes aviation so great is the diversity of people who fly an aircraft. You can meet anyone at an airport. In the past there were many celebrities who took a seat in the back of a rent aircraft as a passenger. Nowadays you see more and more celebrities who fly planes and take a seat behind the control stick. Various famous actors and musicians have a pilot license. This allows them to travel quickly to and from a specific location. Ibiza, for example, became the perfect holiday destination. Read more about this utopian place.
This pilot license is not only suitable for single-engine aircraft but some celebrities even have a pilot license for a Boeing 747! Some of the celebrities even own their own private jet.
Below is an overview of celebrities who fly planes.
Angelina Jolie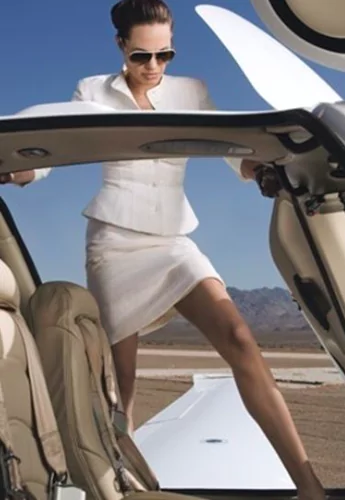 Inspired by her son Maddox, the actress has been flying since 2004. She bought her first own aircraft in 2005. The aircraft is a Cirrus SR22. This aircraft is the same type as the ones in the Fly Aeolus fleet. Angie is an agile pilot and also flies larger turbo propeller aircraft.
Brad Pitt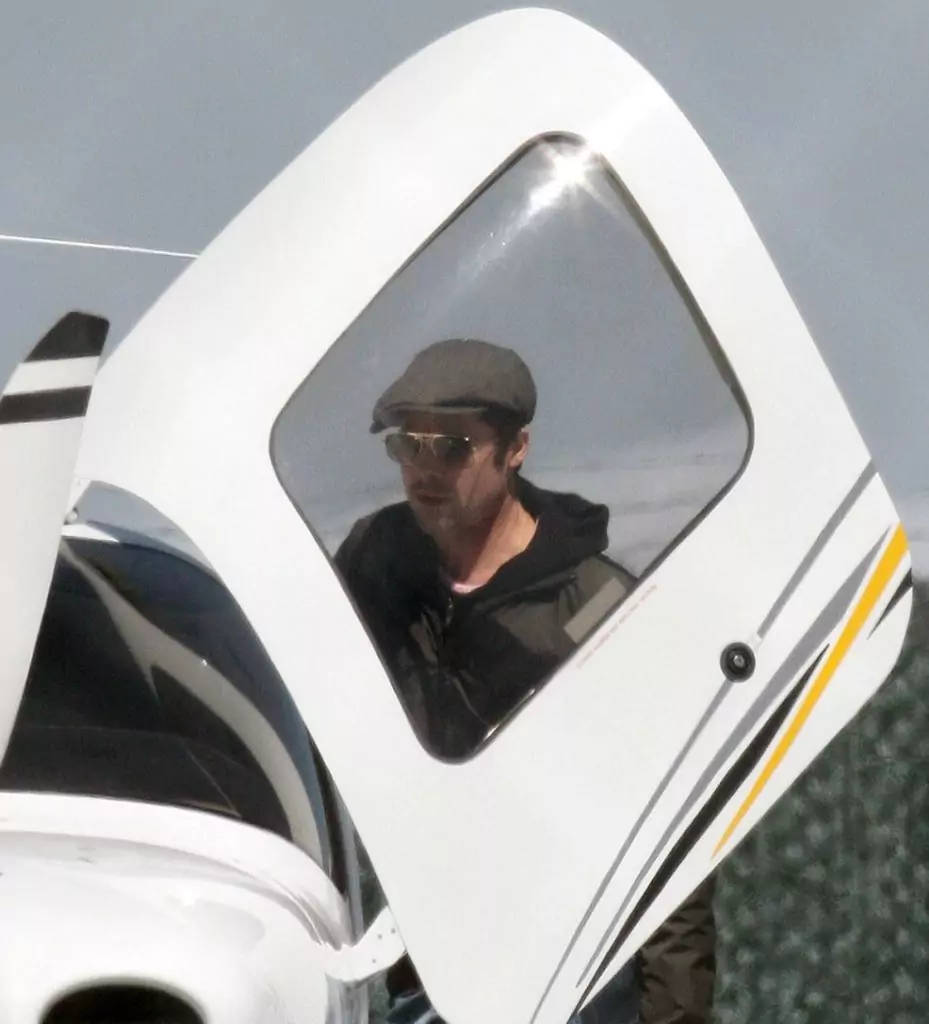 If your (now ex) wife Angelina Jolie has her own aircraft, why not try to fly yourself, too? This happened to Brad Pitt. He obtained his pilot license to fly their own Cirrus SR22. Nowadays he even has his own Supermarine Spitfire from the Second World War which he flies himself.
"Boys never grow up. They just get older and their toys get more expensive"
Read in this blog, why Fly Aeolus also chose the Cirrus SR22.
Tom Cruise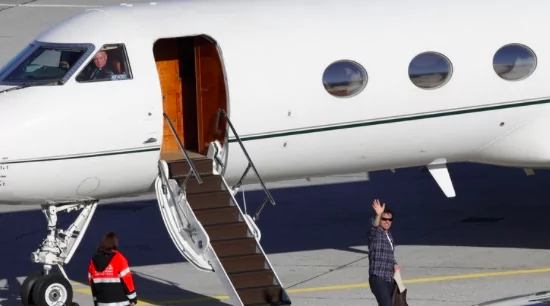 Tom Cruise also flies a Cirrus and recently he bought a P-51 Mustang from the Second World War. According to People Magazine he claims that as a child he always had a photo of a P-51 Mustang with him and that this was always his favorite aircraft. He is also the owner of a Gulfstream IV. Tom obtained his pilot license in 1994.
He usually flies all his stunts himself and was spotted in a helicopter during the last shots of Top Gun.
Celebrities who fly planes: John Travolta
From all the actors who have a pilot license, you naturally have a "boss over boss". It may be clear John Travolta is such a "boss". To support his aviation hobby, John chose "Jumbolair Aviation Estates" as the perfect location for his home. The area is a fenced community located at a private airport.
John has a runway at his disposal that is long enough to land his Boeing 707 and park it next to his front door. He also owns a Bombardier Challenger 601, an Eclipse 500, two ultralights and even a fighter jet, the Soko Galeb G-2.
Are you interested in celebrities who own private jets? Then read more about it in one of our other blogs.
Bruce Dickinson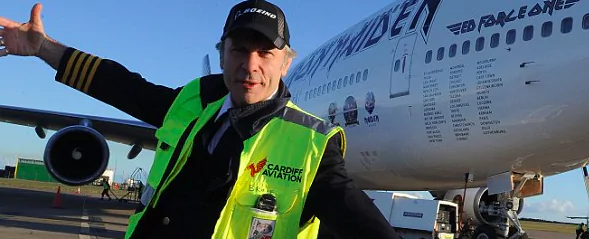 In addition to being Iron Maiden's singer, Bruce Dickinson is also a pilot. When he goes on a world tour with the band, he rents a plane without a pilot. Not just a plane but a real Boeing 747. During a previous world tour a Boeing 757 was used, but the guys from Iron Maiden thought that this could be bigger.

And to complete the story, the plane was renamed the "Ed Force One" after their mascot and as a parody on the plane of the American president called the "Air Force One".
Harrison Ford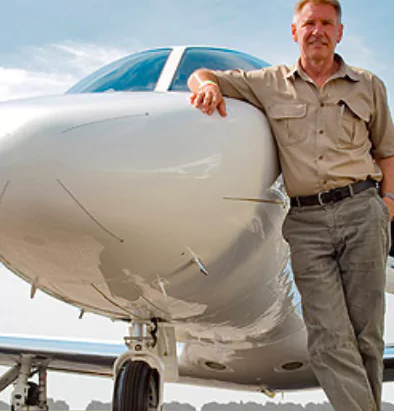 Harrison was 52 years old when he first started flying. He owns a fleet of aircraft and has occasionally made news with an aircraft crash. He has crashed his helicopter and his plane from the Second World War. He has also recently landed on a taxiway instead of the runway, luckily the pilot got off without a penalty. What do you think: "A cat with nine lives"?
These are some of the celebrities who fly planes, but there are many more, such as Clint Eastwood, Morgan Freeman and Dr. Phil. There are also famous DJs and soccer players that travel by private jets.
Would you like to be transported just like a celebrity and choose where you would like to fly and when? Fly Aeolus flies to more than 1600 different airports in Europe. Then contact us on info@flyaeolus.com or use our flight calculator!