By Frédéric Messina
How to remain indifferent to the acquisitions and the lifestyle of the richest people in the world: luxurious villas, private jets, or even real floating palaces: luxury yachts. Billionaires around the world are indeed engaged in a veritable incessant battle to become the "King of the Seas". After the most luxurious cars and the 5 most unique private jets in the world, Fly Aeolus presents you its Top 10 of the most expensive luxury yachts in the world.
10. Al Mirqab: 250 million Euros
Built by the German Peters Werft shipyard in Wewelsfleth, under the name of "May project", it is now owned by Hamad bin Jassem al-Thani, former prime minister of Qatar.
With a length of 133 meters, the Al Mirqab has 10 luxury suites to accommodate 24 guests, with two VIP suites. It can accommodate a total of 60 passengers, not counting the 60 crewmembers. It has a jacuzzi on the aft deck, a swimming pool, a library, a cinema and a helipad.
9. Rising Sun: 300 million Euros
Built by the German shipyard Lürssen Yachts, the Rising Sun was originally ordered by the CEO of Oracle Corporation, Lawrence Ellison. But the latter is now co-owned by Ellison and David Geffen, one of the creators of DreamWorks SKG.
This yacht has eighty-two rooms spread over five floors. There is a gym, a cinema, a wine cellar, and a basketball court which also serves as a helipad. In 2014, the aft part of the ship was completely redesigned to accommodate a huge carbon pool. The work was carried out at the shipyards of La Ciotat, in the French Riviera.
8. Serene: 350 million Euros
The Serene was owned by Russian billionaire Yuri Scheffler before being bought by Mohammed bin Salman, heir Prince and Vice Prime Minister of Saudi Arabia. This 134-meter-long boat has endless details that make it one of the most luxurious yachts in the world.
This mega-yacht was built by the Italian shipyard Fincanyieri. It has 2,700m² of living space, including 12 luxury cabins that can accommodate up to 24 passengers. Nearly 20 meters high, it has 7 decks, two helipads, a bar-restaurant, a library, a spa, a theatre, and a warehouse that can accommodate other boats, including a submarine.
7. A+ (ex Topaz): 400 million Euros
The Topaz is owned by billionaire Mansour bin Zayed Al Nahyane, current Vice Prime Minister of the United Arab Emirates and member of the Abu Dhabi Royal Family.
This sea monster was built by the German shipbuilding company Lürssen Yachts. On more than 147 meters, there are two helipads, a gymnasium, a conference room, and a cinema room. There are also two Jacuzzis on the back deck, next to the pool. Its eight decks are connected by an elevator that serves 26 luxury suites, all equipped to accommodate up to 52 guests.
6. Dubaï: 450 million Euros
Built by the German industrial group Blohm+Voss and measuring 162 meters in length, this yacht belongs to Mohammed ben Rachid Al Maktoum, current Emir of Dubai.
Its facilities are designed to accommodate over sixty guests. Dubai has 2 lounges, a large dining room for 30 people, a helipad, a swimming pool on the back deck, three Jacuzzis, a nightclub, a spa, a cinema, a wine cellar, and a warehouse. that can accommodate jets-skis and other diving equipment.
5. The Sailing Yacht "A": 500 million Euros
We end our selection with Sailing Yacht "A" which stands out from all its competitors as it is the largest sailing yacht in the world. It is owned by Russian billionaire Andrey Melnichenko, industrialist, and philanthropist.
This extraordinary yacht was built by the German shipyard Nobiskrug. Measuring 140 meters in length, this naval masterpiece houses a gymnasium, a huge swimming pool with spa, an underwater observation pod, a helipad, and a submarine. It can accommodate around sixty passengers, including crew members. Its technical characteristics are impressive: the "A" is an ecological yacht equipped with advanced electrical technology. Indeed, it is equipped with a variable-speed hybrid propulsion system, with two 3600 kW diesel engines and two 4300 kW electric motors.
4. Azzam: 550 million Euros
Once again, the German shipbuilding company Lürssen Yachts is behind this oversized yacht. This wonder belongs to Sheikh Khalifa bin Zayed Al Nahyane, Emir of Abu Dhabi and President of the United Arab Emirates. She was the largest private yacht in the world, before the REV OCEAN took her place with a length of 182 meters.
According to its builder, this yacht is one of the most complex yachts ever built. Even though we don't know exactly what is inside, we know that it has a helipad, a cinema, a nightclub, an anti-missile system and a submarine. The interior, faithful to the sophisticated tastes of the Emir, is signed by designer Christophe Leoni.
3. Dilbar: 600 million Euros
We have just entered the Top 3 of the most expensive luxury yachts in the world.
Also built by German firm Lürssen, the Bilbar is owned by Russian oligarch and businessman Alicher Ousmanov. This name simply refers to the first name of his mother.
With a total length of 156 meters, it is the 4th longest yacht in the world. This yacht also has the largest indoor swimming pool ever installed on a yacht: 25 meters in length with a capacity of 180m3 of water. We can also find 2 helipads and 40 guests can be comfortably accommodated, knowing that its crew is composed of 80 people.
2. Eclipse: 700 million Euros
Russian oligarch and billionaire, Roman Abramovich is the proud owner of the world's second most expensive yacht. Measuring just over 163 meters in length, its interior and exterior decor is designed by British designer architect Terence Disdale. With 6 decks and 24 cabins, it can accommodate around 40 guests and 70 crew members.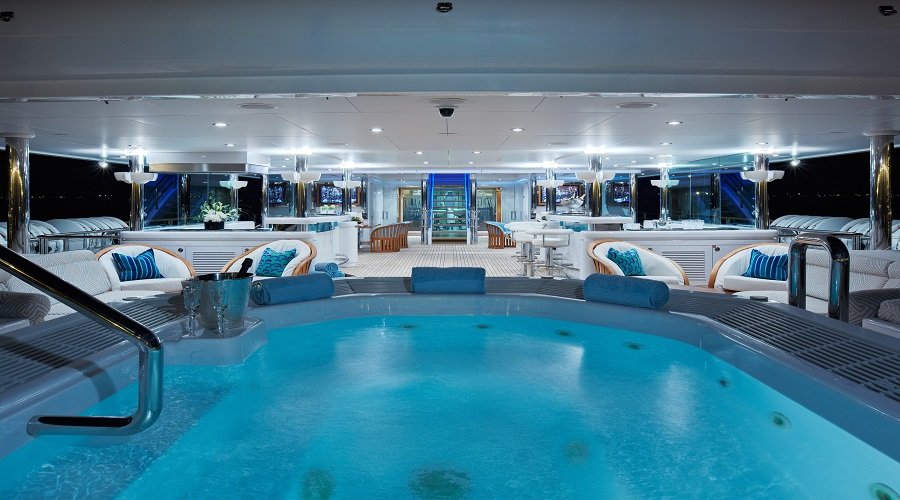 This luxury acht was built by the German industrial group Blohm+Voss. It has a nightclub, a cinema room, a giant aquarium, an art gallery, a bank, a casino, a wine cellar, a spa, two helipads, and an inner port with a capacity of three large speedboats, dozens of jet skis, and a submarine. It also has a very high level of security with a surveillance system with intrusion detection, armoured walls and bulletproof glazing, an anti-missile defence system, and an anti-paparazzi digital anti-photography system.
1. History Supreme: 4 billion Euros
Finally, here is the most expensive and luxurious yacht in the world. This ultra-luxurious yacht is believed to be owned by Malaysia's richest man, Robert Kuok. One of the most amazing features is its small size compared to its price: 30 meters long. Overall, this is 120 meters shorter than these main luxury yachts competitors.
However, it is the precious metals used in its design that make it the most expensive and luxurious yacht in the world. Decorated entirely in gold (100 tons in total for its conception), this yacht is nothing but a luxury one-upmanship, and even has on board a giant 24-karat gold aquarium, diamond liquor bottles and a wall made up of meteorites and tyrannosaurus bones.
Did you believe that ? This boat never existed and this story would is invented from scratch. Pictures of the so-called "History Supreme" are actually retouched photos of the "OneHundred", a yacht of the Italian shipyard BaiaYacths.
The most expensive yacht in the world would therefore be officially the Eclipse of Russian billionaire Roman Abramovich.
Discover these luxury yachts by private jet
Did you know that these luxury yachts are generally moored in the ports of the French Riviera, from Monaco to Marseille, passing through Nice, Cannes or even St-Tropez? Book your air taxi now to have the chance to see them up close!
Fly Aeolus offers flights to and from 1600 airports. To find out which destinations we serve, do not hesitate to consult our destinations page. If you want to know the price of other private flights, you can check our price calculator.
If you have any further questions or need assistance with your reservation, please do not hesitate to contact us at info@flyaeolus.com or +32 (0)3 500 9082.