By Brunella Brunetti
The Fashion Weeks are extremely glamorous and extravagant events that occur twice a year in various cities throughout the world. Designers from all over the world present their latest collections and trends for the upcoming seasons. However, back in the days, the Fashion Week used to be unofficial and less organized as the Fashion Weeks of today. Right now, London, Milan and Paris are anxiously waiting for the last Fashion Weeks of 2019! Fly with an air taxi to a Fashion Week and discover the latest collections and the hottest trends for Spring/Summer 2020 in Europe's fashion capitals!
History of the Fashion Week
The origins of the Fashion Week can be traced back to the end of the 19thcentury and the beginning of the 20thcentury. Around this time, French fashion designers started to see some business opportunities to increase awareness and sales of their designs. Therefore, those designers started to employ women to wear their designs in public places, in order to get the attention of the media. A short time later, high-end designers started to organize small and informal shows with models. The models participating in those shows would walk with the new designs in front of a small group of customers. These small shows became insanely popular, which consequently led to scheduled "fashion parades" (fr. défilés) which would last as long as three hours. Additionally, these "Fashion Parades" were repeated for several weeks daily.
Step by step, the Fashion Parades started to attract more and more foreign buyers, that would travel to Europe, to take part in this social event. For this reason, couture houses began to schedule their shows on two fixed dates during the year, establishing the concept of the temporary Fashion Week. Around the 1950s, fashion shows became serious and publicized events that would take up to one hour. The venues of these shows were mostly the designer's salons or hotels, in which retail buyers and potential clients were seated together with journalists. The audience was seated around the catwalk, where models would walk with the designer's clothes.
In the 60s, haute couture clothes, that was used in these Fashion Shows, started to be replaced by prêt-à-porter (ready-to-wear) clothes, as demand for it started to rise. Consequently, shows started to focus on ready-to-wear clothes on the catwalk. Simultaneously, shows started to embrace younger generations and focused on mass consumerism. Additionally, designer shows started to become more and more extravagant, taking place in unusual locations and with new catwalk formations of the models.
Between the 1980s and 1990s, with iconic supermodels like Cindy Crawford, Brooke Shields, Naomi Campbell, Claudia Schiffer and Kate Moss, Fashion Shows became extremely popular. Especially through Fashion Shows like the ones of Victoria's Secret, Fashion Shows became part of the pop culture.
Fashion Week Today
Throughout the years, three European cities became the main cities for these Fashion Weeks. The so called big three: London, Milan and Paris became the main fashion cities due to their long connectivity with fashion. For this reason, it is safe to say, that the Fashion Weeks became overall an extremely popular event. The Fashion Weeks and their fashion shows are not only reported by the media representatives but are also reported by influencers and fashion bloggers that attend the shows. Furthermore, every Fashion Week occurs twice a year. Around February of each year, designers present their new collections for the Fall/Winter season of the year. Contrary, the Fashion Weeks that occur around September, include the latest trends and collections for Spring and Summer of the following year.
Next to the big three Fashion Weeks, many smaller Fashion Weeks are gaining more importance, like the Fashion Week Berlin and the Fashion Week of Amsterdam.
Fashion Week London
London's first Fashion Week was launched in 1984 by the British Fashion Council, which was founded a year earlier. Ever since, the London Fashion Week developed itself into the now known Fashion Week. This year, the London Fashion Week will take place from the 13thof September 2019 till the 17thof September 2019. During this week, British designer brands like Burberry, Vivienne Westwood and Belstaff will display their newest collections for the upcoming spring- and summertime.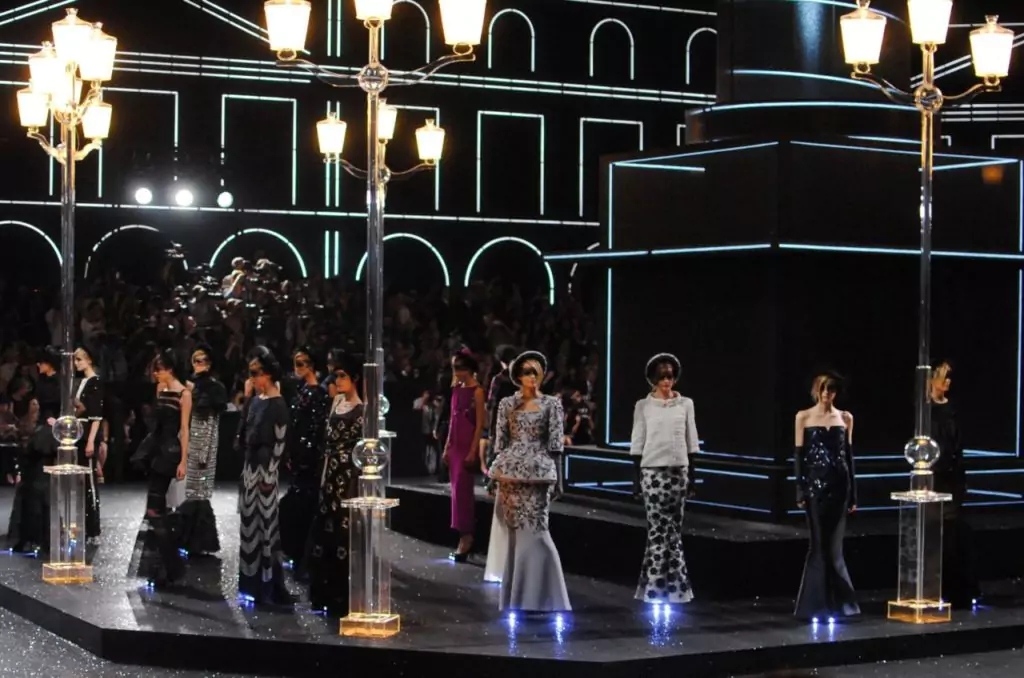 Fashion Week Paris
The Paris Fashion Week is considered to be the most special Fashion Week of all, due to their two kind of Fashion Weeks, the prêt-à-porter (ready to wear) and the haute couture (high fashion) fashion week. In 1945, the first Haute Couture shows were held in Paris, in which designers portrayed their latest collections. However, in order to be considered an Haute Couture house, fashion labels needed to follow a set of rules and meet the criteria of the "Chambre Syndicale de la Haute Couture". Only when the criteria were met and the rules were followed, designer brands were officially considered Haute Couture Houses. Till this day, the Haute Couture shows are held biannually and only in France. This years Parisian Haute Couture Fashion Week will take place on the 30th of June 2019 till the 4thof July 2019.
Next to the Haute Couture Fashion Week, the regular Parisian prêt-à-porter (ready-to-wear) Fashion Week takes biannually. The first prêt-a-porter Fashion Week was organized and held in 1973 in the Versailles Palace. This first Fashion Week resembles the contemporary Paris Fashion Week. The Paris Fashion Week will take place from the 23rdof September 2019 till the 1stof October 2019. During this time, designer brands like Balmain, Chanel and Dior will present their latest trends for Spring & Summer 2020.
Fashion Week Amsterdam
The roots of the Amsterdam Fashion Week can be traced back to the year 1947. Between 1947 and the 1950s, the Dutch Women's apparel industry held a Fashion Week with the name Amsterdam Fashion Week. However, after a few times it stopped, due to the collapse of the Dutch ready-to-wear industry. Only in 2004, the first edition of the Amsterdam Fashion Week in its current form was created. This year's Amsterdam Fashion Week will take place from the 5thof September 2019 till the 8thof September 2019. Shows occurring during the Amsterdam Fashion Week will focus on emerging designers. However, visitors of this Fashion Week will be able to see shows of more notorious designers as well.
Fashion Week Berlin
The Berlin Fashion Week is among the younger Fashion Weeks that take place, as it was officially established in July 2007. However, throughout the years, this Fashion Week managed to gain international recognition and importance through the many creative and young designers. Consequently, Berlin started to be considered as the new fashion capital.
This year's Fashion Week in Berlin will take place from Monday 1stof July till Saturday the 6thof July. Shows of this fashion week will include shows of designers like Wolfgang Joop, Phillipp Plein and Hugo Boss. Additionally, the Berlin Fashion week is particularly used by young and upcoming designers, to showcase their latest collections.
Fashion Week & Air Taxis
Visiting Fashion Weeks and their shows can be very time consuming. Especially as a Model, Blogger/ Influencer or media representative, that attends multiple Fashion Weeks in Europe, time plays a key role. For this reason, an Air Taxi is perfect to travel from one Fashion Week to the other. By using an air taxi, one is able to safe precious time, as flight schedules are adapted to one's personal schedule. Additionally, by using an air taxi during aFashion Week, one is able to land as close as possible to one's destination.
Paris for instance, is not only great because of the Fashion Week, but also because of the many airports around the city that are suitable for an air taxi. The French capital does not only offer international airports like Charles de Gaulle, but it offers also smaller ones like the airport of Lognes-Emerainville. Find more about the Parisian airports in the blog: Paris airports you can travel to at the speed of light!.
Visiting the Berlin Fashion Week by an air taxi is also possible. Berlin offers many airports close to the city, that are suitable for an air taxi. Additionally, Berlin is also a great city to visit. If you would like to know more Berlin and its attractions, head over to our blog: Take an air taxi to Berlin!.
Private Jet flight from Paris to Berlin
Aircraft: Cirrus SR22
Flight time: 3:37
Price: € 5.453,00 (for 3 passengers)
Private Jet flight from London to Amsterdam
Aircraft: Cirrus SR22
Flight time: 1:25
Price: € 3.822,00 (for 3 passengers)
Please refer to our price calculator for a personalized air taxi offer to London, Paris or any other destination. You can also contact us at +32 (0)3 500 9082 or at info@flyaeolus.comfor further information.