By Yasmin Balent

Comfort on board and space in the cabin. Those are just two features that characterize the Cirrus SR22. In the following you will find out how luxurious the entry-level private jet can be!
Cabin
Unlike other private jets, the cabin of the Cirrus SR22 is formed like an ellipse rather than a rectangle. For this reason, the rear of the machine is incredibly spacious.
The entire cabin of the private jet is equipped with a luxurious leather interior and plenty of headroom. In addition, the interior of the Cirrus resembles the interior of a modern luxury sedan, making it therefore a true sedan for the air.
Leather seats
The comfortable leather seats of our luxurious private jet are not only offering plenty of legroom, but also abundant room to the side, of both the front and rear seats.
Furthermore, the Cirrus can accommodate two passengers in the back seat. Additionally, the two front seats can be quickly brought into a lying position and are equipped with cup holders. Also, the rear seats of the Cirrus can be folded down, in order to create more luggage space. Moreover, all seats of the Cirrus are equipped with four-point straps and noise canceling headsets.
Cockpit
Whenever you rent a private jet, you are always able to enjoy the view during the flight. Besides this, one has a great view of pilot's of cockpit. As the Cirrus Air Taxi has a glass cockpit, digital flight instruments are displayed on large LCD screens, just like in a regular airliner. These screens combine the classic round instruments in a digital representation. Take a 360 degree look of the Cirrus here.
Welcome on board of our luxurious private jet!
The doors of a Cirrus air taxi open forward up, just like the ones of a luxury sports car. This ensures ease and convenient boarding on the private plane.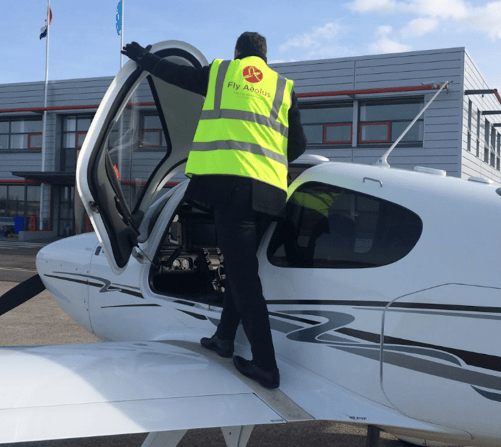 Next to the comfort that the Cirrus offers, there are many other reasons why Fly Aeolus is using Cirrus SR22 aircrafts. One of the major advantages is the time that one can save with private flights in the Cirrus SR22. You are able to arrive 15 minutes before departure at the airport. Thus, you can avoid long check-in and security check queues. If you would like to know more about the flight costs to your desired destination, please consult our price calculator.
We also compared Fly Aeolus' airtaxi to a regular private jet. Have a look at our blog with advantages and disadvantages of both: Fly Aeolus Air Taxi, the perfect private jet alternative!
Curious about other private jets? Check out this: Awesome private jets
Please contact our sales team at info@flyaeolus.com or call us on +49 (0) 30 9789 6996. Our team will be please to answer your questions about private jets and air taxi traffic.