By Stefaan Ghijs
Safe flying is not only the mission of Fly Aeolus but also of the producer of the Cirrus aircraft. From day one the producer is determined to improve the safety level of the aircraft. This has led to the most important safety innovation in more than half a century of aviation: the Cirrus Airframe Parachute System (CAPS ™). This was the main reason why we choose to fly with a uniform fleet of Cirrus SR22 aircraft.
This Cirrus Airframe Parachute System (CAPS) is a whole-plane ballistic parachute recovery system designed specifically for Cirrus Aircraft's line of general aviation light aircraft. This aircraft parachute system is designed to protect the occupants in case of emergency. Thanks to the Cirrus Airframe Parachute System, the aircraft can descend slowly to the ground. CAPS is a revolution in the general safety of aviation and no other certified aircraft manufacturer in the world offers this safety device as standard equipment on all its aircraft.
In the event of an emergency, the pilot can pull the CAPS handle that is located in the ceiling of the cockpit. This will unlock the aircraft parachute.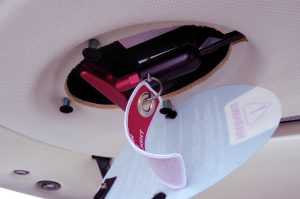 Within a few seconds, the aircraft parachute will unfold and the aircraft will lower its lowering speed. During the landing of the aircraft on the ground, the shock of the landing will be absorbed by the special landing gear and by the Cirrus Energy Absorbing Technology (CEAT ™) seats. The goal of employing this system is the survival of the crew and passengers and not necessarily the prevention of damage to the airframe.
Click here to see how the parachute unfolds.
Are you interested to book a flight with these Fly Aeolus Air Taxi's? Please check our price calculator and receive an immediate price indication.
Off course you can also contact us for further information at +32 (0)3 500 9082 or on info@flyaeolus.com.