By Julia Tichawa
As the largest city in Franconia and the second largest city in Bavaria, there is a lot to discover in Nuremberg. We take you to the cultural centre of northern Bavaria and provide you with exclusive tips from our Nuremberg pilots for your private jet trip to Nuremberg Airport. Where do our pilots like to go out to eat ? Which "secret" places do they visit in their free time? Which hotels do we like to recommend to our guests and which airports can be found in Nuremberg and its surrounding area?
Approximately 520,000 people live in the Franconian metropolis and the founding date is stated around 1050. Unfortunately, more than 90% of the city was destroyed during the Second World War. Throughout reconstruction, the city attached great importance to retaining old architectural styles. Despite the bombings, the medieval style with the half-timbered houses has been preserved.
What should you definitely visit in Nuremberg?
Nuremberg's imperial castle first appears in written sources in 1105. It was one of the most important castles in Europe in the Middle Ages. Until 1571, all Roman-German emperors did reside at times in the Imperial Castle. Visit the permanent exhibition in the castle museum and learn more about the history of Nuremberg. Afterwards, we recommend a walk along the city walls of Nuremberg to discover the treasures of this medieval city.
While taking the city tour you also have the unique opportunity to visit the place where Albrecht Dürer lived and worked. From 1509, Germany's most famous artist lived in this town house. In fact it is one of the few town residences that were not destroyed during the war.
When you hear the word Nuremberg, christmas market, gingerbread and Nuremberg bratwursts immediately come to mind. These markets usually take place during Christmastime and are street markets offering food, drinks, and trinkets associated with the Christmas season. If this is more your thing, we recommend a trip in the winter months in order to stroll through the Christkindelsmarkt with its romantic atmosphere, the smell of roasted almonds and mulled wine.
The Nuremberg Christmas Market is one of the largest in Germany and not without reason one of the most famous in the world.
The insider tips of our Nuremberg experts
We asked our Nuremberg pilots and staff for insider tips for your Nuremberg holiday and discovered the following exciting spots.
The Mayor's Garden
Tucked away by the city wall, the Mayor's Garden offers a place of idyll. Our pilot Christian explains how to find his Nuremberg insider tip: "You start your walk in the Burggarten on the upper and lower bastions to the west and north of Nuremberg Castle. From there you walk to the Marstall (youth hostel) and pass through the small gate behind the pentagonal tower. Now you are on the path that leads through the lower castle garden. Walk a bit along the wall and arrive in the mayor's garden.
In the past, this part of the garden was leased to the mayor, hence the name. Take a short break in the stately gardens before moving on to our next insider tip.
Discover Nuremberg from above in the Cloud One Bar
Our pilot Eike also has a special highlight for you: the Cloud One Bar on the 14th floor of the Motel One, located directly at the main station. Enjoy a glass of gin tonic or champagne at sunset with a view over the historic city of Franconia.
Hotels in Nuremberg
We would like to make your journey by private jet to Nuremberg Airport as pleasant as possible. Hence our hotel recommendations:
Hotel 3 Raben ****
This hotel is our favourite and we are very happy to suggest it as an accommodation to our guests. Located near the Lorenzkirche in the city centre, this 4-star hotel is a real experience. 22 different hotel rooms tell the stories of Nuremberg's mythical world. Do you prefer staying in Albrecht Dürer's or Till Eulenspiegel's themed room?
Hotel Victoria ****
The Hotel Victoria is housed in a building constructed in 1896 in the centre of the old town. The combination of historical style and modern boutique furnishings will make you feel at home during your stay in Nuremberg.
Hotel Sheraton Carlton *****
If you prefer a hotel with a sauna, pool, fitness area and a breathtaking rooftop terrace where you can have breakfast, the Sheraton Carlton is just right for you. Nuremberg's only 5-star hotel is also known for its associated restaurant Tafelhof, where Franconian specialties and lovingly designed dishes are on the menu.
Restaurants and bars when you fly to Nuremberg Airport by private jet
The "goldenes Posthorn"
The golden post horn is the oldest wine tavern in Germany and was first mentioned in a document in 1498. Famous personalities, such as Albrecht Dürer, from all over the world met in this very place. They exchanged ideas and lived out their artistic lives. Richard Wagner, for example, wrote a part of his opera "Die Meistersinger von Nürnberg" in the Posthorn. Try original Nuremberg grilled sausages or a Schäufele fresh from the oven.
Fine Dining in the Restaurant "Zweisinn"
Stefan Meier's restaurant "Zweisinn" offers innovative starred cuisine in Nuremberg. Combining quality and creativity with regional products create wonderful compositions. Visit the restaurant or the bistro and let the French-Mediterranean menus melt in your mouth.
The Atelierbar
If you are looking for a bar with an elegant Art Deco ambiance, we recommend the Atelier Bar at Le Meridien Grand Hotel. This bar is an insider's tip from locals and guests from all over the world, with exclusive cocktail creations and a special aperitif menu.
Want to read more about other stunning destinations in Germany? Then take a look at where else you can fly to by air taxi within Germany.
Private Jet Airports in and around Nuremberg
The best-known airport is the Albrecht Dürer Airport in Nuremberg. It is located about 7 km from the city centre and was founded and opened in 1955 after the war. As Bavaria's second-largest airport, it reached its all-time peak in 2018 with 66074 aircraft movements.
Nuremberg Airport has a GAT (General Aviation Terminal), which makes it easier for you to travel using this separate terminal. The opening hours are Monday to Friday from 06:00 – 21:30 and on weekends from 08:30 – 18:00. Of course, we can also organise a taxi to your desired destination.
With this number of flights and approximately 4 million passengers annually, you can imagine how stressful it can be to fly to Nuremberg Airport by private jet. Therefore, we would like to show you alternative airports to Nuremberg airport that will not only make your journey less stressful, but also suitable if you will be staying in the Nuremberg area.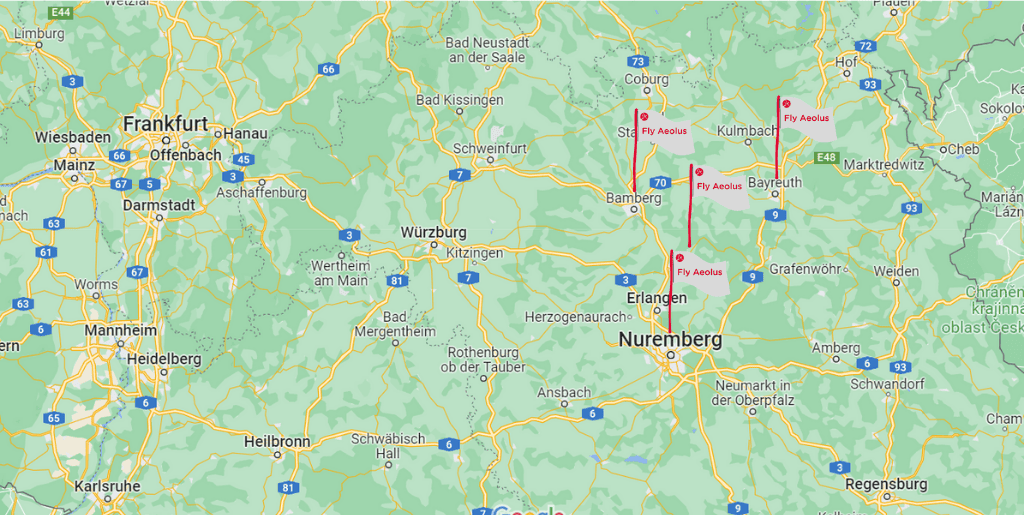 Besides the airports just mentioned, you can discover 1600 other destinations on our destinations page. Feel free to browse to find the airport that's best for you. Would you like to visit other cities in Germany? Take a private jet to Düsseldorf!
Our price calculator will help you calculate your trip by private jet to Nuremberg Airport and the surrounding areas.
If you have any questions or would like to receive further information, you can either send us an e-mail at info@flyaeolus.com or call us at+32 (0)3 500 9082.