By Stefaan Ghijs
Air traffic controllers have the task of ensuring safe operations of commercial and private aircraft. Air traffic control workers provide aircraft guidance 24 hours a day and 7 days a week. They must coordinate the movements of thousands of aircraft. They ensure that aircraft are kept at a safe distance from each other and direct them around bad weather. They are an extra set of eyes and ears for the pilots in the cockpit. But how does air traffic control work?
Air Traffic Control (ATC)
From the air traffic control tower, air traffic controllers accompany approaching and departing air traffic in what is call a controlled traffic region. This controlled traffic region (CTR) is a control zone or controlled airspace around an airport, which extends from the surface to a specified upper limit.
The CTR is established to protect air traffic operating to and from that airport. As CTRs are controlled airspaces, aircraft can only enter it after receiving clearance from air traffic control. This means that air traffic control at the airport will know exactly which aircraft are in that airspace. It accordingly can take steps to ensure aircraft are aware of each other, either using separation or by-passing traffic information.
The airport approach department on the other hand, users radar to handle air traffic in a larger area around the airport.
Area Control Center (ACC)
The Area Control Center guides aircraft in the lower and higher airspaces. This Area Control Center is an authority that manages a certain airspace and ensures that all air traffic safely navigates through its respective airspace.
The flight plans of all incoming and outgoing aircraft are known to the ACC. All flying traffic entering the managed airspace must register with a radio callsign including the flight number or aircraft registration.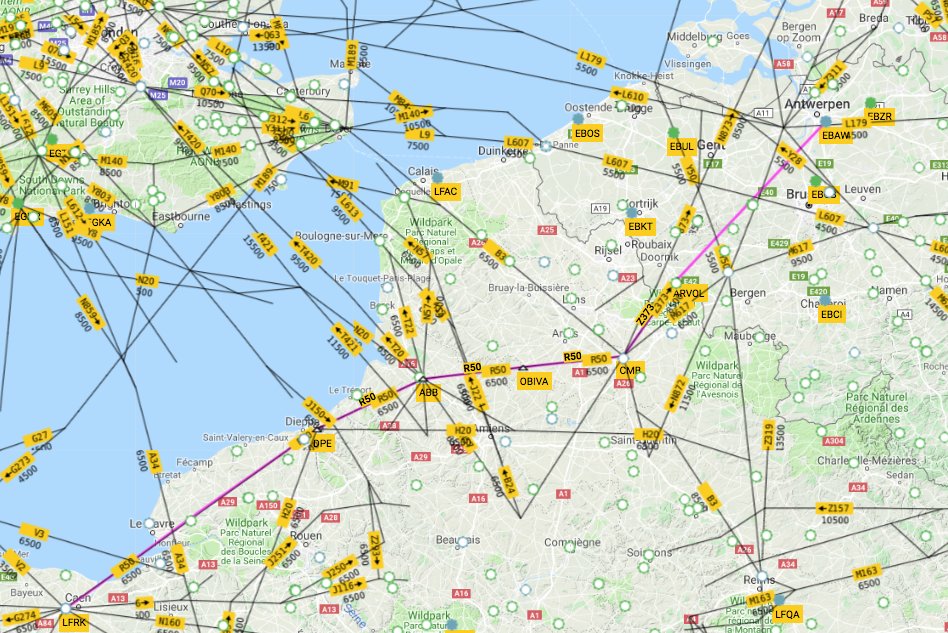 Next to the radio call sign, the aircraft transponder will send a multitude of flight data. This data is automatically send to an "interrogating" radar of air traffic control. Air traffic systems will process this data without the air traffic controller having to interfere. The flight data is then made visible automatically on the air traffic controller its radar screen.
The air traffic controller guides the aircraft and separates them from each other in the managed area, this until it leaves the managed airspace. Just before the aircraft flies into an airspace managed by another authority, the aircraft hast to be "transferred". This is done via a pilot instruction to make radio contact with the traffic control of the neighboring or next airspace.
Click here to see a short movie as a small reminder of the incredible work air traffic controllers in cooperation with pilots and ground crew do every single day.
Air Traffic Control: Working with the Flight plan
Every flight begins with the preparation of a flight plan. A flight plan is required to ensure that an airplane meets all of the operational regulations for a specific flight. This flight plan gives the flight crew information to help them to conduct a safe flight. Additionally it allows them to coordinate the flight with air traffic control (ATC). Flight plans are made by the airline's operations department. They are double checked by the pilot before filling them to air traffic control (ATC).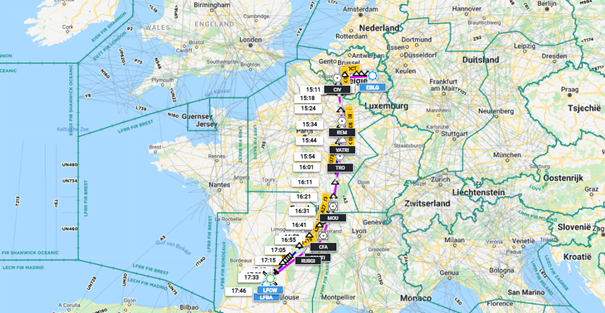 What does the work at Fly Aeolus actually look like when you book a flight with us? You can read about how we prepare for and follow the flight in our "Flight support blog".
Slots
An important part of ATC are slots. These are a prior permission from the airport and air traffic control to fly within a specific airspace or land at a specific airport during a particular time frame. When the supply of traffic for a certain period exceeds the available capacity of the airspace or airport, traffic is regulated by slots. In short this means that the number of aircraft that is allowed to fly, take off and land will not exceed the available capacity.
Air Traffic Control: Strikes
Most people only hear about ATC when they are on strike. Unfortunately in Europe there is a clear increase in ATC strikes. In 2017 European ATC controllers were on strike for 24 days, whereas in 2018 they were on strike for a full 30 days. As you can imagine when this causes delays. Basically if 50% of the air traffic controllers that manages a certain airspace is on strike, only 50% of the traffic in that particular area can be handled.
The best part is that you don't notice all these efforts, but you just enjoy your flight.
Interested in renting an air taxi? Please refer to our private jet price calculator for a personalized air taxi offer!
Off course you can also contact us for further information at +32 (0)3 500 9082 or on info@flyaeolus.com.
You are intersted in how our opeartion department works? Then you should check out these two blogs: