By Johanna Menzel
Are you planning a trip to Europapark by private jet and want your stay to be as hassle-free as possible? We tell you how this can become reality for you very soon! Enjoy a day with your family in Germany's largest and Europe's second most popular theme park: Europa Park. Such a day trip is usually associated with a lot of stress and getting up early, as the journey time usually takes longer than the actual stay in the park. We show you how your adventure at Europapark can also be hassle-free!
Fly Aeolus offers the solution: fly with an air taxi to Lahr Airport, the closest airport to Europa Park. In this blog you can read more about Europa Park and how Fly Aeolus saves you valuable time, that you can spend in the park instead.
Europa Park Rust
Europa Park is located in the south-west German town of Rust, between Freiburg in Breisgau and Strasbourg (in neighboring France). Europa Park is run by the Mack family, who have been producing cars since 1780, circus cars since 1880 and roller coasters since 1921. With 13 fantastic roller coasters and 18 different areas having different themes, Europa Park makes the hearts of families, adrenaline junkies and travel groups beat faster. The park, as a fantasy version of the European continent with 100 rides through 13 different countries, is a blast in the heart of the Black Forest.
Dive into "la dolce vita": You can enjoy the ultimate Italian feeling by visiting a replica of the Roman Colosseum and a medieval tower made of red bricks reminiscent of the one in Siena. The park also has many fountains in the same design as the world-famous Trevi Fountain. And last but not least, to end your short holiday in Italy: Enjoy a pizza in one of the many Italian restaurants.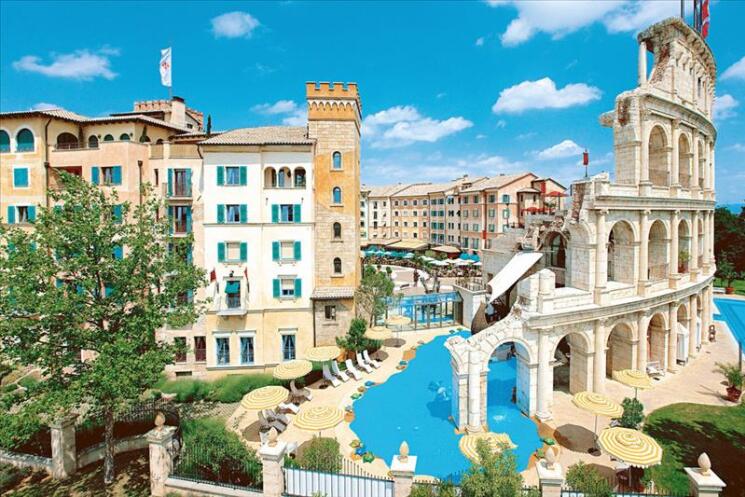 Or visit another country-specific themed area, where countries are broken down into a few iconic sights and attractions: England is setup around the theme of Shakespeare and beer, represented by a replica of the Globe Theatre and three bars. The statue of Queen Victoria is standing in front of it.
After discovering the Netherlands with its windmills and a ride on a "Delft porcelain cup", it is only a short walk to the fishing villages of Scandinavia. In the area themed around Germany you can see an original section of the old Berlin Wall.
The most spectacular rides at the Europa Park
The Blue Fire – from 0 to 100 km/h in 2.5 seconds!
An impressive journey past steep cliffs and breathtaking scenery is awaiting you! In only 2.5 seconds you will be catapulted from 0 to 100 km/h. Again and again the roller coaster winds its way past brittle cliffs and fights its way underground through rocks before finally spinning through the highest loop of a catapult roller coaster in Europe.
Thrill after thrill elements follow one after the other on the 1000-meter-long ride. With this roller coaster, Europa-Park is upside down for the first time. Apart from the highest loop of this catapult roller coaster, a daring 360° "screw" turn, two overhead elements and a loop are also part of this spectacular journey.
Wodan – The wooden roller coaster
A length of 1050 meters, a height of 40 meters, a maximum speed of 100km/h and many airtime sections make this attraction a ride where even nerve-strong types get hot and cold together.
Silver Star
The "Silver Star" is one of Europa-Park's biggest and highest steel roller coasters and invites you to an exciting ride. With a height of up to 73 meters, a top speed of 130 km/h and 4G centrifugal forces this ride guarantees a special combination of speed and weightlessness.
Alpenexpress Coastiality – A virtual roller coaster ride
"Alpenexpress Coastiality" is a virtual reality adventure. Futuristic worlds will unfold before your eyes while you experience the roar of the air, the centrifugal force and the twists and turns of a real roller coaster. During the ride, visitors experience an animated 3D world that perfectly matches the real roller coaster track.
Immerse yourself in the world of Ed Euromaus and his friends, Paddington Bear and Otto's Ottifanten by putting on the VR glasses. Enjoy your ride!
Atlantic SuperSplash – a ride that will make you feel like a new man
Follow the steps of the great sailors and explorers during a fun and lively ride on the "Atlantica SuperSplash". Your journey begins next to the giant sailboat "Santa Marian" and continues via a dimly lit fortress on an adventure trip through the depths of the Atlantic Ocean. Your boat turns about 30 meters above the ground and goes down nine meters – backwards! After a second turn and a magnificent view of the Black Forest, you will race into the refreshing water at a speed of 80 km/h. Nobody stays dry, guaranteed!
Virtual queuing and further corona changes
Europa-Park is open daily from 9:00 to 18:00 during the week until 08.11.2020 and until 19:00 on weekends.
You can easily and conveniently purchase your dated tickets online and even save time! Spontaneous visits are unfortunately not possible. In addition, the parking area is large and spacious and offers enough space for all visitors and staff.
There are no more restrictions for your visit at the Europa-Park Adventure Resort.
Furthermore, Europa Park has come up with another, we think, great idea how to avoid queues and therefore maintain social distance: virtual queuing! VirtualLine is the new virtual queue for selected attractions at Europa-Park and can be used with the Europa-Park & Rulantica App. After a one-time verification of your park admission ticket, you can use the app to get a place in the queue for specific attractions. In the meantime, you can continue to explore the park. It is recommended that you download the app before you visit the park. Download the Europa Park app here:
The fastest way to Europa Park: A Fly Aeolus air taxi flight
With a Fly Aeolus air taxi, you save precious time that you can spend in the park. The airport Lahr, which is only 20 km away from the park, can be approached with one of our Cirrus SR22 aircraft. Since Fly Aeolus can operate from smaller airports in comparison with commercial airlines, an airport could be easily available within 20 km of your home. You do not have to stand in annoying queues at large airports, and you will save yourself the check-in procedure.
So, nothing stands in the way of your day trip to Europa Park! You can use our price calculator to create your individual air taxi offer.
Flight examples to airport Lahr and the Europa Park
Route: Antwerp (Belgium) to Lahr (Black Forest, Germany)
Flight time: 01h 39m
Price: 2.663,94 (for 3 passengers)
Route: Toussus le noble (France) to Lahr (Black Forest, Germany)
Flight time: 01h 45m
Price: 3.224,66 € (for 3 passengers, day return)
Please do not hesitate to contact us if you have any further questions. Send us an e-mail to info@flyaeolus.com or call us on +32 (0)3 500 9082.
Would you like to stay longer in the Black Forest? In our blog you can learn more about the most beautiful regions in the Black Forest.