By Stefaan Ghijs
Looking for a romantic weekend trip during Valentine? Do you want that spark again or simply celebrate Valentine's Day in a special place? Discover these romantic cities by private jet during Valentine!
Private jet to Bath
Bath is often mentioned as one of the most romantic cities in the United Kingdom. This beautiful city is easily accessible via Bristol airport and in no time you can imagine yourself in a 17th-century novel. Visit the beautiful Victoria Park and the magnificent Royal Crescent for Valentine. Then go to the Bath spa, the only place in England where you can bathe in natural thermal water.
The natural hot springs on Valentine´s Day
Thermae Bath is a spa where you can bathe in the only natural warm, mineral-rich water of Great Britain. This just as the Celts and Romans did more than 2,000 years ago. Located at the heart of the World Heritage, this spa combines the best of historic spas with modern design and facilities, including a selection of relaxing spa treatments.
Thermae Bath Spa is within walking distance of all major attractions, accommodations and parking garages in the city center. The Spa is located in Bath Street, 200 meters from the Bath Abbey towers.
Royal Crescent on Valentine
The Royal Crescent is a street in Bath. This street has the shape of a semi-circle or half-moon ("crescent" in English) with 30 houses in it. These houses were built between 1767 and 1774. First, the façades were built according to a design by the architect John Wood Junior. Subsequently, home builders hired their own architects and contractors to build up houses at their own discretion.
Sotto Sotto Restaurant
Sotto Sotto is a beautiful Italian restaurant in Bath. It is located underground which makes you feel like you are in a real cave. This creates a sexy and unique atmosphere. From the refreshing cocktails at the bar to the delicious food served: a real must-do when visiting Bath.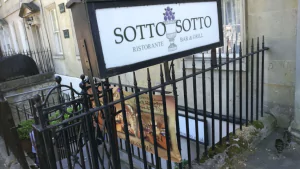 A romantic weekend in Amsterdam
For a romantic weekend you should definitely take a walk along the canals for which Amsterdam is so famous. The backdrop of centuries-old stately buildings rising above a labyrinth of slowly flowing canals undoubtedly exudes something magical and relaxing.
Take your loved one to the many illuminated shopping arcades, take a horse-drawn carriage ride through the Vondelpark or enjoy an exquisite "dinner cruise" where you are shipped from restaurant to restaurant on the canals.
There is so much to experience in Amsterdam! Here is our favourite tip for Valentine's Day evening:
Normally we wouldn't send anyone to a movie theater for Valentine's Day, it doesn't lift emotions and doesn't create a bond. It's different with this cinema in Amsterdam: The 1921 built Cinema Pathé Tuschinski is a spectacular mixture of different styles, both inside and out: Amsterdam School, Art Nouveau and Art Deco. It is one of the most beautiful cinemas in the world. Here you can treat yourself to a double "love seat" on the balcony or a "private box" where you can even order champagne! Visit their website for more information: Pathé Tuschinski.
To Prague on Valentine's Day
For centuries Prague has been considered one of the most beautiful cities in the world. The Prague Castle, a place that offers enchanting views, architectural wonders and in the evening hours a multitude of lantern-lit alleys. For a romantic walk we recommend St. Vitus Cathedral, the Golden Lane and the Old Castle Staircase. A visit to Charles Bridge, the oldest preserved Prague bridge, is also recommended for lovers. Whoever touches the plaque of the statue of St. John of Nepomuk will be rewarded with infinite happiness. On the Old Town Square you can also surprise your partner with a carriage ride or a romantic spin in a historic convertible.
Private jet to Paris during Valentine
Paris, the city of love should not be missed. The iconic Eiffel Tower is even in the top 10 of locations with the most marriage requests.
Stroll through the streets and enjoy the panoramic view of the city from the many high locations. Paris is the most romantic city par excellence for centuries. He is known worldwide as 'the city of love'. Therefore, our romantic top 3 places in Paris.
Pont des Arts on Valentine
Love couples from all over the world come since 2008 to the bridge "Pont des Arts". They lock a padlock on the fence here, as a sign of their eternal love. Thousands of couples have hanged a padlock with initials there. The keys of these locks are at the bottom of the Seine.
Since there were a huge number of locks attached to the railings, in 2014 the city of Paris decided to replace the railings. The weight of all locks would not do the bridge any good. The bridge dates back to 1804 and could collapse.
But couples in love don't have boundaries. They therefore tried in various ways to hang a lock on the bridge. For example, the security fence for the bridge has now been completely decorated with thousands of latches. Because actually it does not matter where the lock is hanging. If it is hanging in the city of love, it must work.
Le mur des je t'aime
The "I love you wall" is a work of art designed by Frédéric Baron and Claire Kito. This wall is a must-see for couples who visit Paris during Valentine's Day. The wall, with a surface of 40 m², consists of 612 squared enameled lava tiles, on which "I love you" occurs 311 times in 250 languages. The red splashes on the wall represent a broken heart and can be combined into one large full heart. This unusual monument, dedicated to love, is located on the square at the Place des Abbesses in Montmartre.
Place Vendôme on Valentine
Near the Champs-Élysées you will find the most luxurious shops, jewelers and watch shops. Shops such as Bvlgari, Rolex, Cartier, Jaeger Lecoultre, Chopard, Dior, Patek Philippe, Hublot, Chanel and many others can be found here. This is the ultimate place to surprise your loved one during Valentine's Day with a beautiful gift. Check here if your favorite store is also present at le place Vendôme!
Do you want to know the fastest way to get to Paris without losing time? View here at which 9 airports around Paris you can land with a private jet or air taxi.
Have you chosen a romantic destination? We are happy to help you generate extra quality time with your loved one.
For all your flight requests, please contact us via info@flyaeolus.com, view our price calculator or call us at +32 (0) 3 500 9082 (Belgium), +31 (0) 15 820 0999 (Netherlands) or + 49 (0) 30 9789 6996 (Germany).