By Guillemette Gouesse
The city of Reims, also known as the capital of champagne or coronation city, is famous for its history and housing the most famous Champagne Houses such as Veuve Clicquot or Moët & Chandon.
In this blog, you will discover the best things to do and see while you are in Reims, but also how you can fly there with a private jet.
Sky view over the Reims Cathedral
Every visit to the city of Reims should start with a visit to the Cathedral. This magnificent monument has hosted some of France's most important events in its history. It has seen the coronation of the most famous Kings of France starting with the baptism of Clovis in 498.
As an important piece of Gothic art, the cathedral's construction started in the 12th until the 14th century. With its 2,303 statues, it is part of the UNESCO World Heritage List since 1991.
And if you walk a few meters towards the right, you will find the Palais du Tau. This edifice holds some of France's most historical pieces such as the talisman of Charlemagne or the chalice of coronation.
Private flight to the Capital of Champagne
Taking a day to visit different Champagne Houses, is a must-do when staying in Reims. Whether you are going to a famous producer or little unknown ones, you will enjoy what you will possibly taste and see. Champagne houses such as Pommery are worth the visit, where tasting champagne and visiting the caves are part of a great experience, along with the Villa Demoiselle, a jewel of Art Nouveau. The particularities of this house also belong to the UNESCO World Heritage list.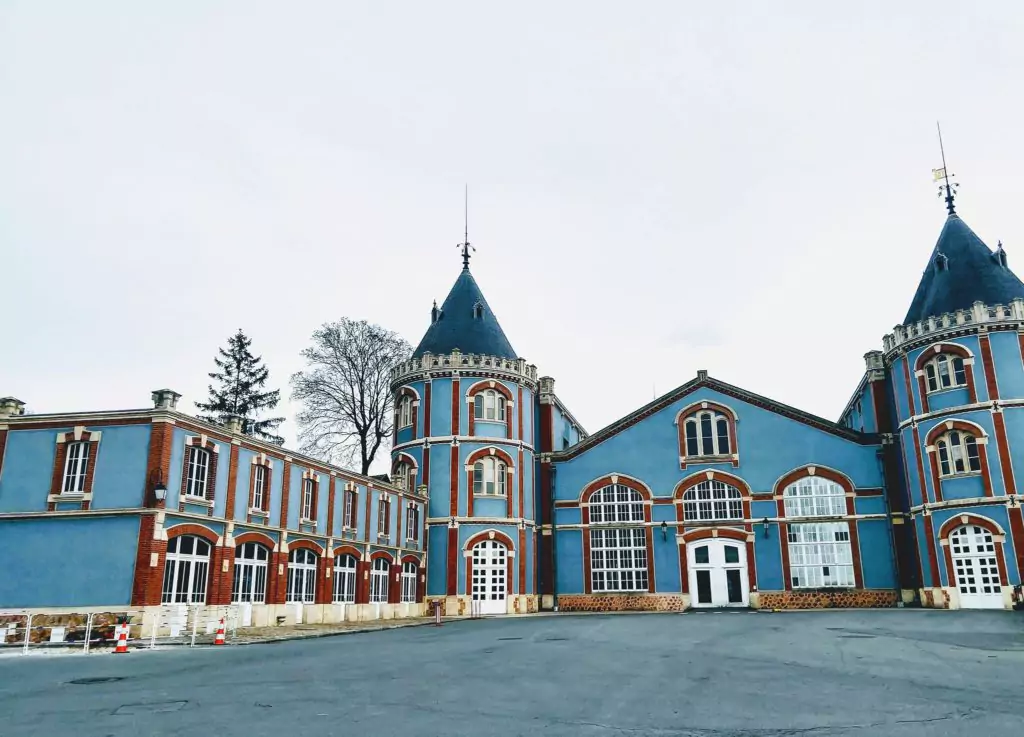 If you travel a bit further than the Parc de Champagne, you will be able to take a walk through vines in the Reims Mountain under the great Lighthouse of Verzenay. Breathe the fresh air, and climb up the stairs of the lighthouse for a breath-taking view over the different wine plantations from Pommery and little producers.
The town of Epernay is also a must-see. The "Avenue de Champagne", houses many great champagne houses in one street.
Besides champagne, France is also very famous for wine. So after taking a trip to Reims don't forget to taste French wine and take our private jet to the wine city of Bordeaux.
Hotels in Reims for your trip
Our first recommendation is the Grand Hotel des Templiers. Located right in the centre of Reims, this 4-star hotel is acclaimed for its service and the atmosphere reflected by its staff.
L'assiette Champenoise, a 5-star hotel, is linked to its own restaurant with 3 Michelin stars. When staying in this hotel you can enjoy a covered and heated swimming pool and private parking.
Our restaurant recommendation
Reims is home to some of the best restaurants in France. When deciding what you prefer the blog "French cuisine: Taste France!" will help you choose what to eat. In Reims the number of restaurants to choose from are unlimited. However, Fly Aeolus has made a selection for you.
The Café du Palais, a typical French bistro, will serve you some of the best bistro food you will ever eat.
At Le Millenaire, you will taste French exquisite cuisine, rewarded by a Michelin star. The chef Hervé Raphanel will host you in his restaurant ideally situated in the heart of Reims.
The restaurant La Caserne Chanzy will give you the opportunity to dine or taste champagne in front of the Cathedral. You will be able to try their Champagne Bar or the local cuisine cooked with fresh ingredients.
If you cannot get enough of eating French specialties, take a stroll to Maison Fossier, the pink biscuit of Reims. There you will be able to either taste those delicious biscuits or even visit the biscuiterie to discover how the pink biscuits are made.
The arrival in Reims via Private Flight
Reims Prunay airport, is only 17 minutes by car from the heart of Reims, During summer landing is possible from 7.00. to 17.00, and during winter from 8.00 to sunset.
The airport in Chalons Vatry, is 40 minutes away from Reims. Private jets can land between 6.00 and 22.00, extensions are possible.
Book your private jet for your trip to Reims
With this guide, there is nothing more you need for booking your business trip with Fly Aeolus. Besides Reims, you can discover 1600 other destinations on our destinations page. Our price calculator will help you calculate your desired flight costs.
Going to the French Riviera for the summer might also interest you, check out our blog to find inspiration for where to relax and enjoy yourself. If you are interested in an air taxi flight to other top European cities don't hesitate to go and discover more about those.
For any questions or further information, don't hesitate to either send us an e-mail to info@flyaeolus.com or call us on +32 (0)3 500 9082.