By Fly Aeolus
Ibiza has many legendary clubs and beach clubs, it is known as the party capital of Europe! Young vacationers from all over the world come back and forth to party all night long at the "Pacha" or "Amnesia".
During the summer, Ibiza becomes the biggest and hottest private aircraft destination of Europe. We will look at where to go, when you should visit the party island Ibiza and how much it cost to fly an air taxi to Ibiza in Spain.
Ibiza by private jet and air taxi
Flying an air taxi to Ibiza is the best start of your holiday. Private aircraft fly at your schedule, from a regional airfield or airport close to your home or origin straight in the heart of Ibiza. This means you determine the departure time and your length of stay in Ibiza. It is your choice if you want to stay a week or one night.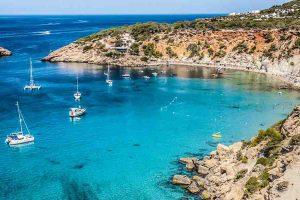 Private jet to Aeropuerto d'Eivvisa
"Aeropuerto d'Eivvisa" is located 7 km southwest of the city center. The airport also serves the nearby island Formentera. European vacationers use this airport to start there holiday at the Balearic Islands.
The airport has two dedicated private jet and air taxi terminals. With no waiting times for check-in or lengthy security procedures, both terminals allow you to arrive as little as 15 minutes before departure of your private aircraft.
Although the airport is opened 24 hours per day, the summer marks a lot of luxury and business travelers flying in to Ibiza. This make the airport as one of the busiest private jet airports in Europe within summer.  The busiest day accounts for around 60 private jet flights taking place from Ibiza airport.
If you are willing to stay longer than a night it is therefore recommended to make air taxi reservations well in advance to guarantee an airport slot and aircraft parking space at the airport.
Fly Aeolus Top 3 things to do in Ibiza
1. Experimental beach is the place where you should be heading for well before sunset. Have a drink and stay for diner while enjoying the stunning view.
2. Visiting Ibiza is equal for renting your own villa with a swimming pool. Exclusive as well as affordable accommodations are spread over the island. The exclusive ones mostly have a fantastic view over the Mediterranean sea. You could also opt in for  a traditional "finca" to have the real Ibiza feeling? Finca's are authentic old farms mostly placed in the countryside.
3. Party until the sun rises at one of the famous clubs "Ushuaia", "Privelege" or "Hi". The season traditionally begins at the start of June with "Space" and "DC10's" opening parties and finishes on the first weekend of October with the Closing Parties.
Example Air Taxi prices to Ibiza airport
Route: Antwerp to Ibiza (dayreturn)
Aircraft: Cirrus SR22
Flight time: 4:52
Price: from 6.830 EUR (for 3 passengers)
Please refer to our price calculator for a personalized air taxi offer to Ibiza or any other destination. Off course you can also contact us for further information at +32 (0)3 500 9082.