By Stefaan Ghijs
Every week we get questions from passengers how much luggage they can take along on an air taxi flight. The space available in the Cirrus SR22 air taxi depends on the number of passengers. If you travel with three people, you can take less baggage than if you are traveling alone. If you travel alone, it is also possible to place a soft bag next to you on the other non occupied passenger seats.
Baggage compartment Weight and Size
The entrance to our baggage compartment is 50 cm x 50 cm. The luggage may weigh a maximum of 10 kilograms per person. The length within the cargobay is 91 cm, the width 101 cm and the height is 97 cm.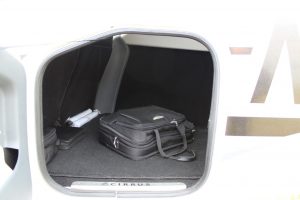 A standard hand luggage case similar like the one you can take in the cabin of a traditional commercial airline fits perfectly into our luggage compartment. Large hard suitcases that you normally use for a holiday of three weeks do not fit.
As most of our air taxi flights are day return trips, passengers most often only take along a laptop or a small bag on board of the air taxi. For the golfers among us there is room for 1 golf bag.
On our blog "All the answers for your questions when hiring an air taxi" you will find answers to many other questions that might come up when you want to book a private flight.
If you have any doubts whether you can bring your desired bag, do let us know. We will let you know what the possibilities are.