By Marine Proudhon
You don't know where to spend your next holidays to recharge your batteries while enjoying sublime landscapes? Fly Aeolus can take you to the Ardèche. The Ardèche is a well-known destination in France. Many French and European tourists love this destination for the summer season for its location and its beauty. The Ardèche is a spacious region that is divided between valleys and rivers. You will find many activities to do during your stay, from walks at higher altitudes to aquatic activities.
Activities to do for your holidays in the Ardèche
1 – Caving
Would you like to take an underground trip ? Explore the Chauvet Cave, a magnificent cave dating back to more than 36,000 years. You can admire hundreds of animals and other drawings painted on the walls of this cave. The cave, which is a UNESCO World Heritage has numerous temporary exhibitions throughout the year.
2 – Canoeing on the Ardèche Gorges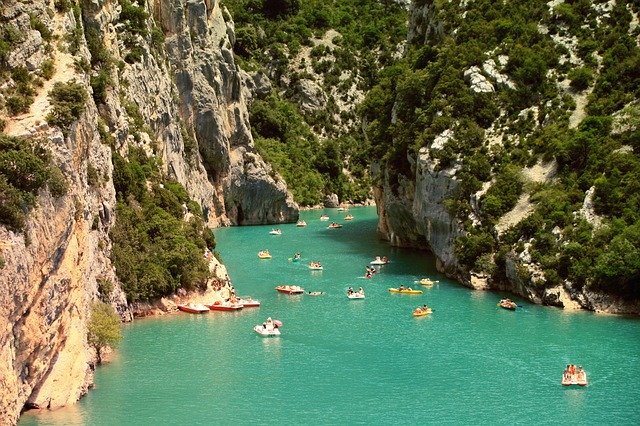 The Gorges are the place to be when visiting the Ardèche! With a guide, you can stroll along the water on a sunny afternoon, letting yourself be lulled by the bird and the water. You will be able to admire many breathtaking landscapes, rivers, streams and mountains.
3 – Sensational activities on the Pont d'Arc
What's on the agenda ? Climbing, Tyrolean traverse and abseiling! Indeed, this sublime sports hike is an opportunity to admire the sumptuous Pont d'Arc. It is very well known in the Ardèche ! During your hike, you will be confronted with a bit of climbing. But rest assured that it is accessible to different levels. At the end of your hike and the day, you will enjoy an incredible abseiling descent of 40m which will drop you at the riverside, to admire the magnificent sunset.
4 – Visit the Verreries
Take the advantage of your visit in Ardèche to visit antique glassmakers' workshops where objects from the history of glass are reproduced. Indeed, the region is very well known for its craftsmanship, especially for the numerous objects made of blown glass. This technique is very well known in France, and is said to be a very difficult one. Whether you decide to do a training course, a workshop or a visit, you will be amazed.
5 – Take advantage of the many cultural events in the region
The Ardèche organises concerts and festivals throughout the year. For example, you can attend the Ardèche Aluna festival, where about twenty artists set the stage on fire and make you dance all evening.
6 – A motorbike ride on the road of the Ardèche gorges
Are you a motorcycle enthusiast ? This road is made for you ! Indeed, the 32 kilometres of the Gorges de l'Ardèche road will allow you to discover magnificent landscapes and appreciate the green nature of the Ardèche. The road overhangs the river at a height of about 200 m. Don't hesitate to take a short break during your motorbike ride to admire the view and take some pictures !
7 – Carry out your balloon baptism
Nothing better than a hot-air balloon ride to discover or rediscover the Ardèche from a different angle, thanks to the panoramic view that a balloon can offer you. Between valleys and the river, your ride will take you from the north to the south of the Gorges de l'Ardèche. It is going to be an exceptional day guaranteed ! If you want to book your balloon flight, click here.
How to travel easily to the Ardèche?
Due to its diversity of landscapes the Ardèche is seen as a magnificent place. But this can sometimes be a disadvantage travelling to this fantastic location. Most of the time, visitors travel to the Ardèche by train, bus or car, which can be a very long and tiring journey.

Fly Aeolus offers a solution that makes your life easier though ! Thanks to our air taxi planes, we can take off and land from smaller airports than commercial airlines. In this way, we can bring you as close as possible to your final destination.
For your next holidays in the Ardèche, Fly Aeolus can take you to Ruoms airport, or to Aubenas Ardèche Sud airport. The time saved in transportation will allow you to enjoy a longer stay at this memorable destination.
Consult our private jet price calculator to check the costs of your air taxi flight.
If you are not sure if the Ardeche is the right place for your next holidays, read our blog about the coolest destinations in France and let us inspire you with our tips.
If you have any questions, please do not hesitate to contact us at info@flyaeolus.com or call us on +32 (0)3 500 9082.

Fly Aeolus hopes to welcome you on board soon for your next holidays in the Ardèche !