By Lea Struck
The profession of a pilot: Everyone can probably imagine what it means, but what exactly is it all about? We asked our pilot Jacques in more detail. Read here how he experiences flying with Fly Aeolus and which qualities you should bring along as a pilot. He also reveals to us how challenging the balance between a pilot's professional and private life can be.
Hello Jacques! Thank you very much for taking the time to conduct this short interview with us.
First of all, how long have you been a pilot and why did you choose this profession?
I got my private pilot's licence at 17. So, I was allowed to fly even before I was permitted to drive a car. After that, I obtained my commercial pilot licence at the age of 22. Since I grew up at the airport, it was always more than just a hobby. My grandfather was a pilot and likewise my stepfather. Consequently, the decision had already been made that I as well would like to take part in this industry.
Can you tell us how you found out about Fly Aeolus and how long have you been flying the air taxi since?
A friend of mine, whom I met at an advanced training course, flies for Fly Aeolus. He told me about it and suggested to contact them, knowing that I fly the Cirrus aircraft as well. Consequently, I have been flying for Fly Aeolus for about 2 years.
Are there any differences between flying the Cirrus SR22 and other models?
Although it has only one engine, it is very fast compared to other single-engined aircraft. The manufacturer has placed great emphasis on making the aircraft safe and simple. So, in principle, it is just as easy to fly as a Cessna 172.
Is there perhaps something that makes the aircraft special for you personally?
Even though it may not sound nice, I am afraid I have to say "no". I am flying almost all SEP and MEP types that exist. So, I often have to change planes for customers and do not try to build up a personal relationship with any aeroplane. Every aircraft has its advantages and disadvantages and is charming in its own special way.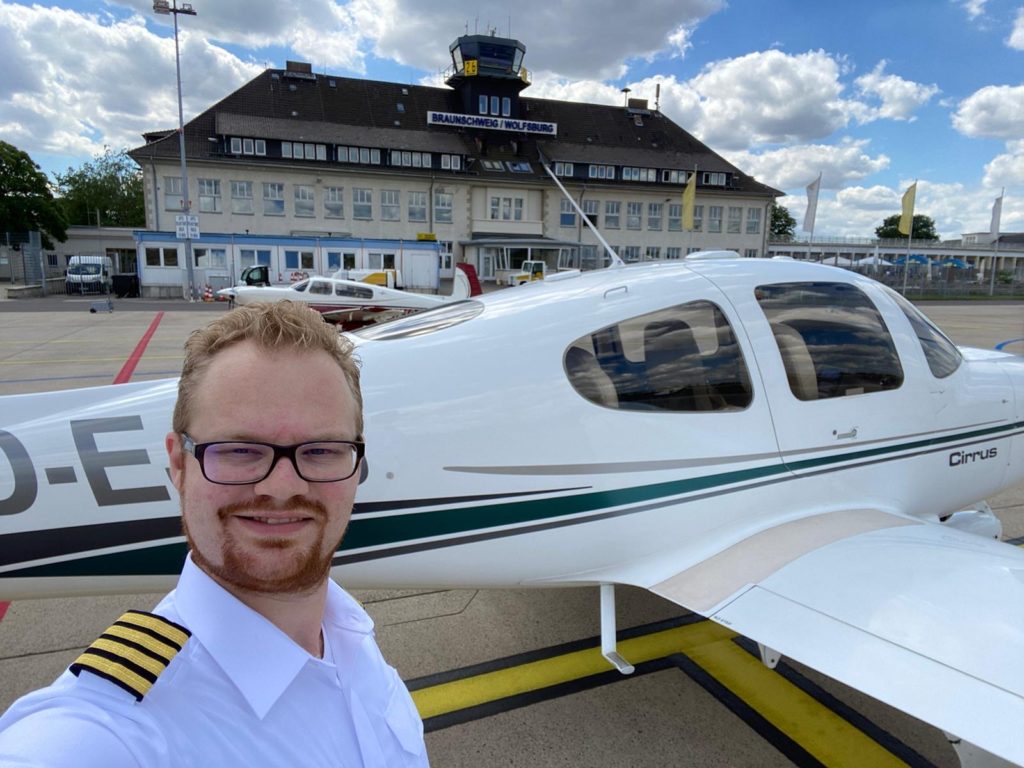 Do you find it easier to operate a large or rather a smaller machine?
My personal experience is that the bigger the machine is, the easier it is to fly it. This is mainly due to the weight and the systems of the machine.
The Cirrus SR22 has a unique parachute recovery system: How did you get prepared for this emergency prevention?
The rescue system is a necessary and extremely useful safety feature in this aircraft. In order to be perfectly prepared for it, a training in Poland is carried out at "Cirrus". This training takes place in a simulator. Here you learn when to use the parachute and above all how much strength you need to use it. The lever is harder to pull than you think 😀
How would you describe the life as a pilot in one word?
Challenging.
You have to be 100% concentrated at all times. That is because you are challenged again and again and in the worst case, pushed to your limits. You have to like that… And I don't just mean that in terms of flying itself, but also with regard to your private life.
It is often assumed that as a pilot you are somewhat limited in your private life, due to the permanent travelling. Would you agree with this and why/why not?
Unfortunately, this is true. One is constrained. To live this life, you need an extremely understanding family who can also cope with a lot. I myself have a wife and two daughters. They are now used to this life. However, the beginning was rather difficult. *laughs*
Is there a route you particularly like to fly, or an airport you most enjoy landing at?
Courchevel, the Altiport in the French Alps. This airfield is very demanding, and every pilot needs special training, which has to be renewed every six months. I love this course. You can get from the runway straight to the ski slope.
Finally, for those who are dreaming of your profession: What makes being a pilot so special for you and is there a character trait that should definitely be brought along?
What is special for me in the profession of a pilot is the variety. You fly different planes and travel to many beautiful places. Sometimes I do not know in the morning where I will be in the evening… That makes it constantly exciting.
You should be persistent, patient, and focused. I think that there would be a lot of excellent pilots who unfortunately just never got the chance. That's why the last point to mention is – Luck. Where you "land" in the end often depends on being in the right place at the right time. Yes, that sounds a bit philosophical, but it is true. If nobody gives you a chance to prove what you can do (even with little experience after your training), you will not get anywhere.
Thank you very much for your time!
As you can see, the profession of a pilot should not be underestimated. Your safety is our top priority! And that is what not only our pilots stand for, but all of Fly Aeolus. Read more about the preparations by our operations team in our blog 'Flight support: Preparation for your flight and the safety involved'.
You are a qualified pilot and want to fly for Fly Aeolus? Find all information here!
Do you have any questions for our pilot or us? Then please feel free to contact us at info@flyaeolus.com or reach us by phone on +32 (0)3 500 9082.