By Julia Tichawa
Diamonds, global trade, a large seaport and delicious waffles – we are in Flanders, Antwerp Belgium to be precise. In the 15th & 16th centuries, the port of Antwerp, located on the Scheldt, was at times the most important trading metropolis in Europe, eventually displacing Bruges from this position after centuries of rivalry.
Did you know that Antwerp's seaport is also home to the largest floodgate in the world? In this blog, we show you what else Antwerp has to offer and how you can travel to and from Antwerp by private flight.
The name Antwerp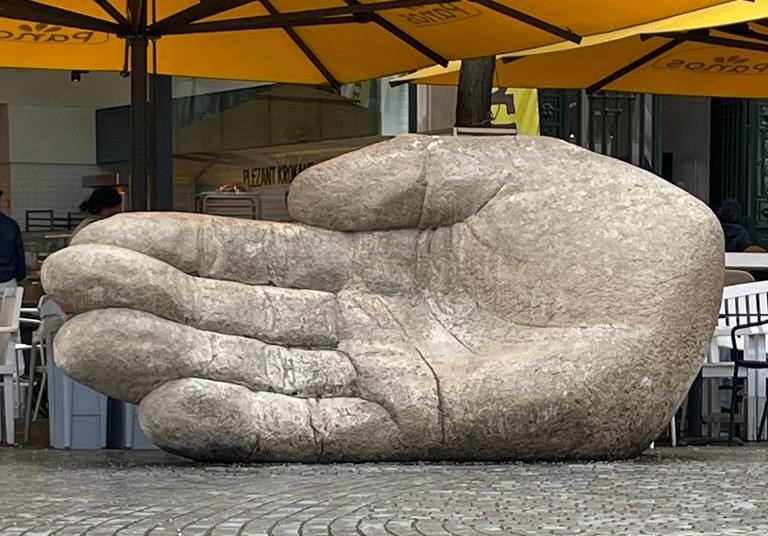 Originally, the name comes from "an de warp". The first settlers in the town, which was first mentioned in a document in 726, lived on so-called terps. These are settlement mounds heaped up with earth, which serve to protect people and animals during storm tides. In the 15th century, the Brabo legend developed, which stands for Antwerp's current landmark – the hand, which is also sold in the form of biscuits or chocolates throughout the city.
According to this legend, the giant Druon Antigon demanded tolls from every passing ship. If the crew could not pay the duty, he would chop off their right hand. The hero Silvius Brabo defeated the giant and threw his chopped-off hand into the Scheldt. Thus, the explanation developed that the city name Antwerp comes from "throwing a hand" – in dutch "hand werpen".
Places of interest in Antwerp, Belgium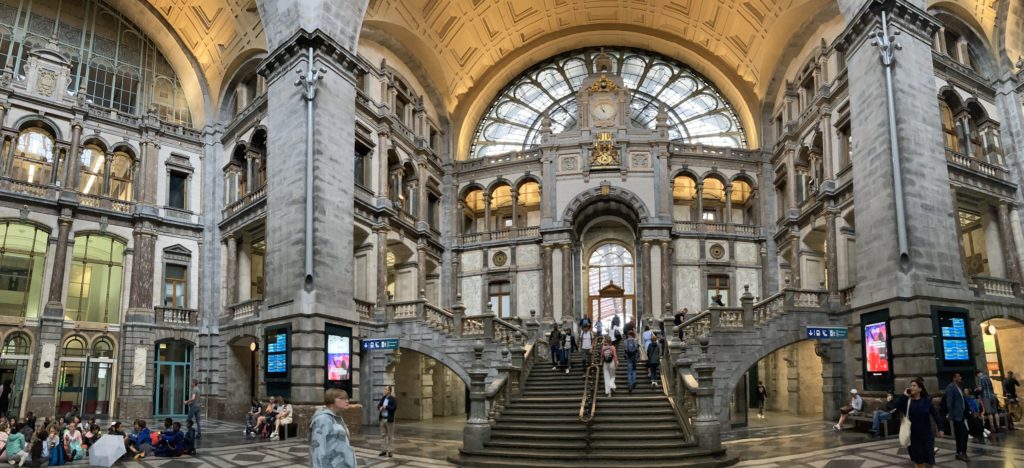 The best place to start your tour in Antwerp is at the train station of the city. Antwerp's historic railway station has been impressing its visitors with its eclectic style since 1899. The architect Louis de la Censerie was inspired by Lucerne station and the Pantheon in Rome. Nowadays, rail traffic is handled on 4 levels simultaneously and connected by 48 escalators.
From Antwerp station, you can discover all the interesting sights on a 25-minute walk to the city center.
The Rubens House
All art lovers can be found here: the home of one of the greatest Baroque painters of all time – Peter Paul Rubens.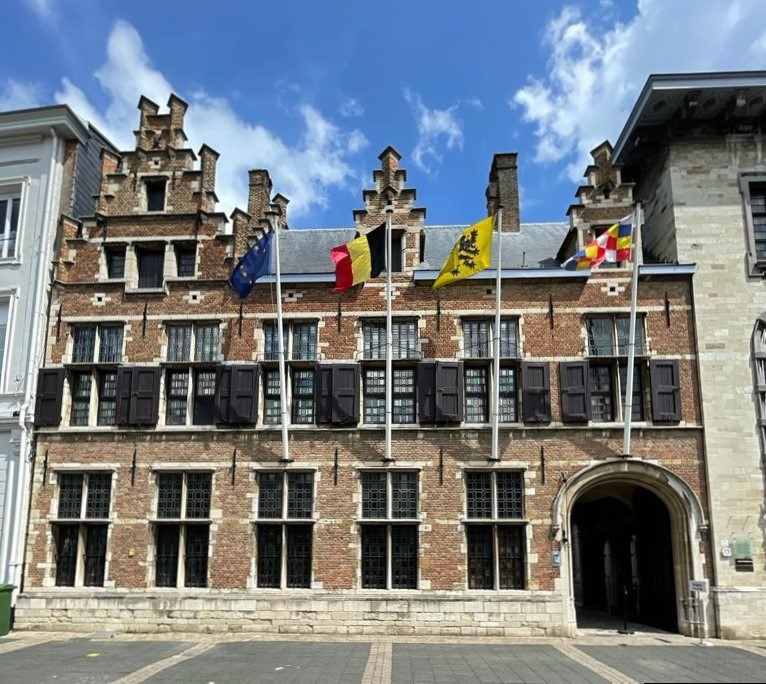 Behind the elegant entrance doors of the Rubens House, you can take a stroll in the painter's magnificent garden. Indeed, the painter himself used the garden for walks or philosophical conversations with his family or friends. The garden's showpiece is a pavilion designed by Rubens himself, which serves as a haven of peace in a pulsating city.
If art interests you, then have a look at our blog about famous artists.
The Great Marktetplace
Antwerp's large market forms the city center of the port city and invites you to enjoy Belgian specialties in the sunshine at the numerous cafés and restaurants.
Do you prefer something hearty to eat? Then be sure to visit Frituur n°1! Here you can get the most famous Belgian fries in the world! Did you know that Belgium is the world's leading exporter of frozen fries? 90% of the production is shipped to over 100 countries worldwide.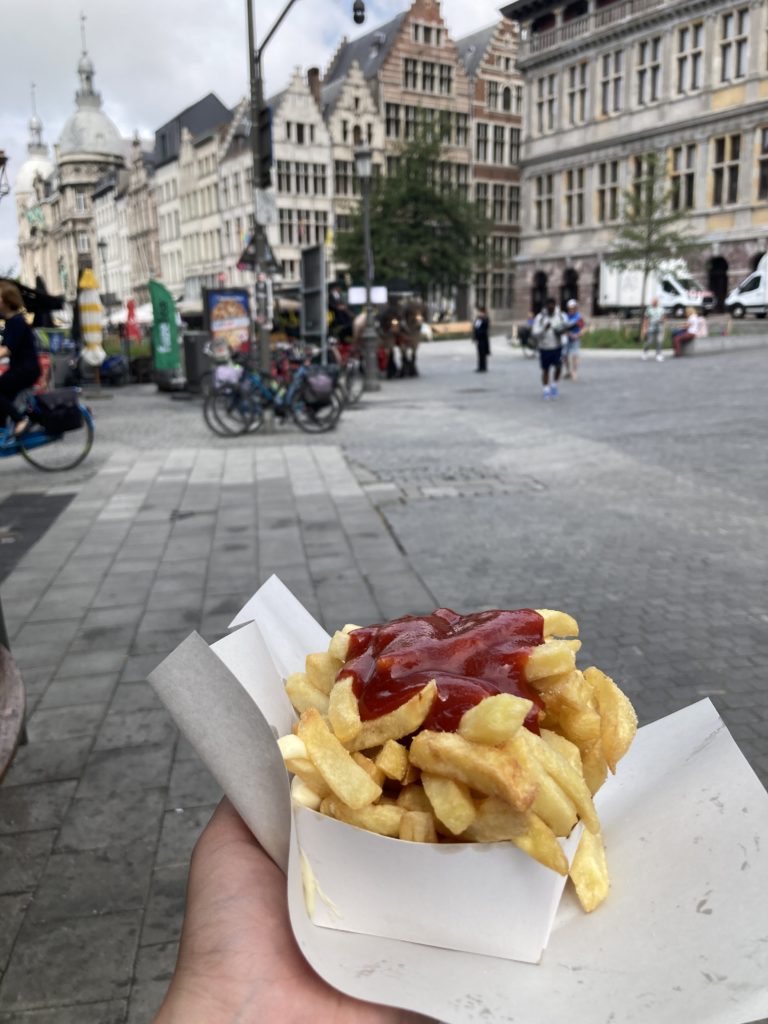 If you are looking for something sweet, you will definitely find it in Belgium. Take a look at the Chocolate nation Museum. Here you can try ten different chocolate flavors and have a look behind the scenes of chocolate production.
An insider tip for the best waffles in town: Wafelhuis Van Hecke. We, at Fly Aeolus, have tried them and are still dreaming about them today.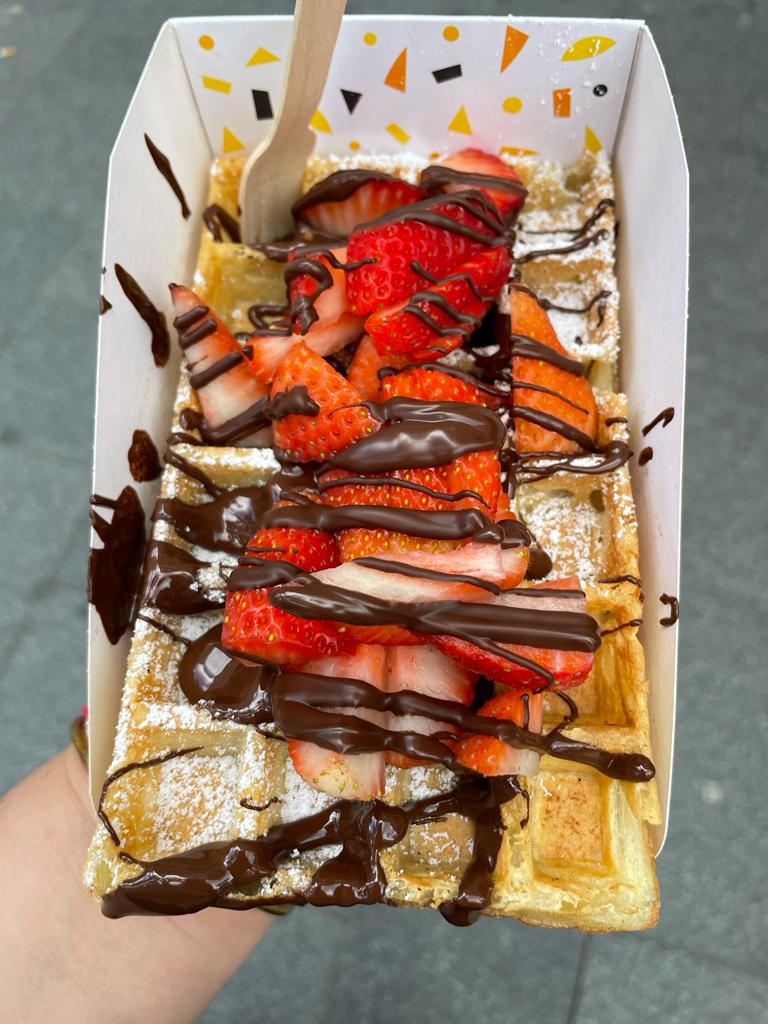 The town hall of Antwerp
Also located on the Grote Markt, you will find Antwerp City Hall with the statue of Silviu Brabos, whom we already know. This UNESCO World Heritage Site exists since the 16th century and offers beautiful halls, works of art, and an impressive facade.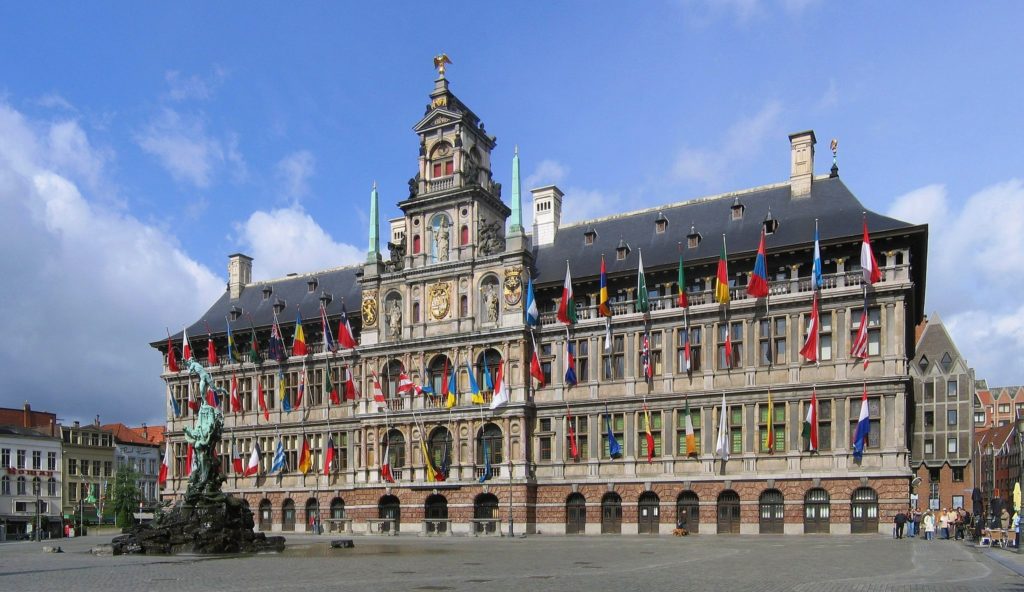 Cathedral of Our Lady
The construction of this Gothic masterpiece began in 1352 and is one of the highlights of Brabant's architecture. Until 1965, the building was repeatedly extended and restored due to various destructions and lootings. Today it is the only seven-nave Gothic church with a transept and ambulatory with radial chapels in the world.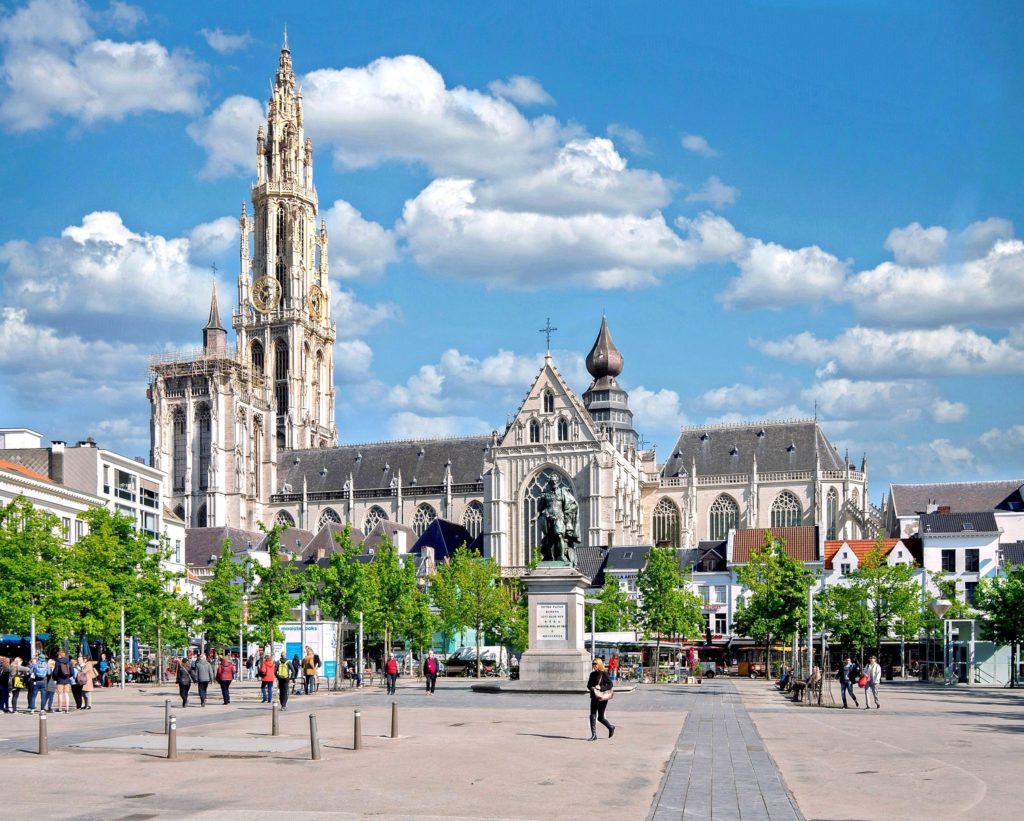 The diamond city Antwerp
As early as the 16th century, Antwerp was considered a famous diamond center and enjoyed trust and prestige from traders all over the world. Due to its location at a large inland port and excellent cutters, Antwerp positioned itself at the top of the diamond sector. With Amsterdam and London displacing the market in the last 4 centuries, Antwerp has been able to call itself again a leading trader since the 20th century. Approximately 80% of the world's rough diamonds pass through Antwerp, Belgium today and are finished there using unique cutting techniques to create pieces of the highest quality.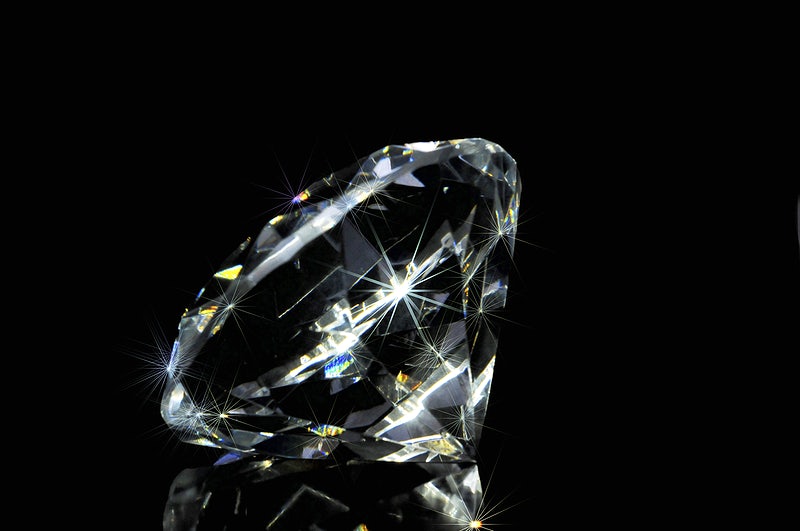 Visit the diamond district right next to Antwerp Central Station and learn more about its history, the different diamond exchanges, and immerse yourself in the exciting world of the diamond trade in a guided tour. Interested in more luxury, maybe luxury cars are what you want.
Of course, there is much more to discover! Feel free to contact us at info@flyaeolus.com and we will make you an offer for a private flight to Antwerp and provide you with more tips and information about the diamond city.
Hotels for your stay in Antwerp
After a long day of sightseeing, we recommend the following hotels:
Botanic Sanctuary Hotel Antwerp
The Botanic Sanctuary Antwerp is a place for business travelers, gourmets, and SPA lovers. The first 5-star hotel with 3 Michelin stars is definitely a good choice for your private jet trip to Belgium.
De Keyser Hotel
This 4-star hotel is also very suitable for your stay in Antwerp, Belgium, due to its excellent location between the Market Square, the Antwerp Zoo, and the Diamond Museum. Enjoy your after-work drink in the hotel's luxurious bars and restaurants.
By private jet to Antwerp, Belgium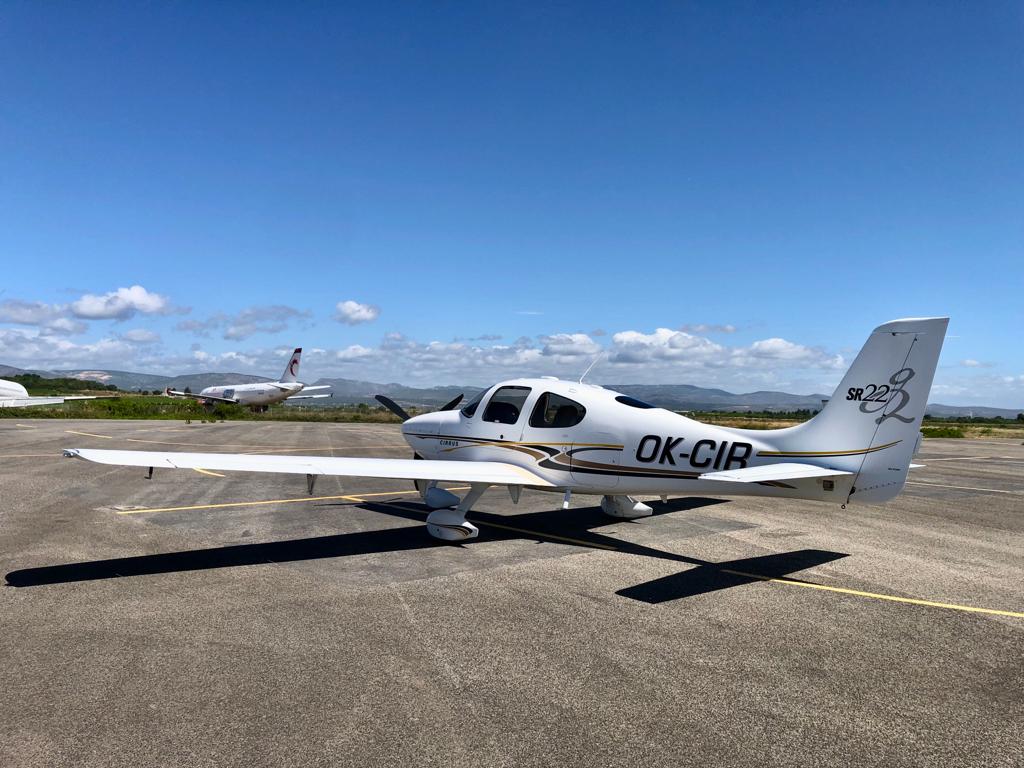 Do you want to travel to Belgium but don't know how? Why not travel with one of our private jets? This saves you waiting time at check-in, security checks, and unavoidable stress when traveling with a commercial airline. Within 15 minutes you are checked in and already on your way to Antwerp, Belgium. Still not convinced? Then check out one of our other blogs for 5 more reasons to book a private jet, or the advantages flying with us.
At which airports can you land in Antwerp, Belgium?
Antwerp has its own airport, equipped with a business terminal and located about 15 minutes from the city center. After landing, you can pass through the business terminal in no time and a taxi organized by Fly Aeolus will take you to your destination. The opening hours of this airport are daily from 06:30 am. to 11 pm.
Are you interested in why we recommend certain airports? Then read our blog about how we know which airports we can land at.
Do you want to explore Belgium? Then take a look at our blog about Bruges or discover even more possible destinations on our website. In addition, we have 1600 other destinations within Europe to offer. Try our interactive map and find your next destination!
If you have any questions or would like more information, you can either email us at info@flyaeolus.com or call us at +32 (0)3 500 9082.